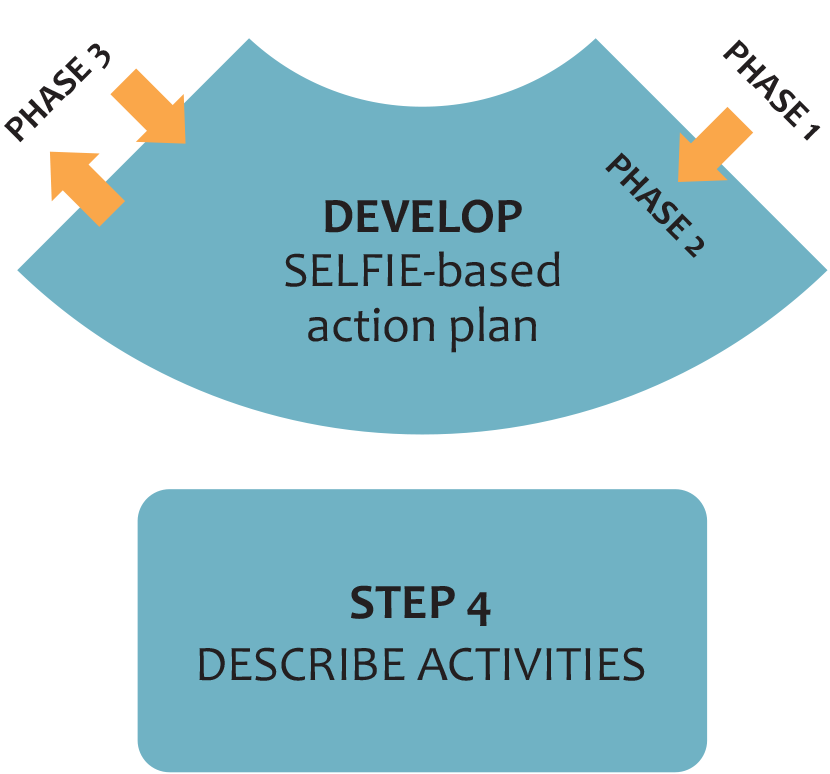 What does this step involve?
Having identified key aspects (i.e., priorities and goals) requiring action to further the school's digital capacity (Steps 1-3), you are now ready to develop the SELFIE-based Action Plan  your school intends to implement.
In this step, you will:
Formulate a list of actions to be performed to reach goals set.
Start outlining your school SELFIE-based Action Plan, based on results from previous steps (Phase 1).
How do we perform this step?
Step 4 involves describing the activities you intend to implement in your school SELFIE-based Action Plan. This action plan, that will be finalised in the subsequent Step 5, is a comprehensive document that enables you to plan, enact and evaluate activities.
The process could start with a brainstorming session to outline an initial set of activities for pursuing the goals and priorities you have defined in Step 3. You may want to include single or multiple activities to address each goal. Some goals may require a short time span of a few months, while others may even take more than a year to achieve. While drafting those activities, continue asking yourselves whether your activities actually address the output from the previous steps (for example by copying your priorities and goals from Step 3 into the Action Plan template so they are at hand for reference during this step).
To ensure that your action plan activities are defined in a sound and reliable way, you can use the S.M.A.R.T. Specific, Measurable, Achievable, Relevant,(i.e., relevant to the current circumstances of the school and the achievement of the specific stated priority), and Time-bound (Doran, 1981). If an activity seems complex and hard to achieve, consider breaking it down into smaller tasks that are easier to implement and manage.
Once you have established the actions, check if you need to prioritize them: some actions may be dependent on others, or have specific deadlines or time limits. Also consider sharing and discussing them with other colleagues at school to gain their feedback and consensus before proceeding.
Remember that this is a preliminary SELFIE-based Action Plan, in the sense that you will complete and refine it in the subsequent steps. Moreover, any time during the implementation (Phase 3) the need may emerge to come back and modify or adjust the action plan.
What support do we have for this step?
Template for SELFIE-based action plan
A template to use for planning, enacting, and evaluating activities. The template is available in both MS Word and PDF format for any school to download and use. Feel free to modify accordingly!
Διαδικτυακή πλατφόρμα διαχείρισης Σχεδίου δράσης
Η εργαλειοθήκη περιλαμβάνει μια διαδικτυακή πλατφόρμα διαχείρισης και παρακολούθησης του Σχεδίου δράσης, η οποία μπορεί να αξιοποιηθεί από σχολεία και εκπαιδευτικές αρχές. Σκοπός της διαδικτυακής πλατφόρμας είναι να παρέχει στα σχολεία ένα διαδικτυακό χώρο όπου εύκολα μπορούν να αναπτύξουν, να παρακολουθήσουν και να εκτυπώσουν το Σχέδιο Δράσης τους, στη βάση του SELFIE, για τη βελτίωση της ψηφιακής τους ικανότητας. Μακροπρόθεσμα, η πλατφόρμα αυτή μπορεί να λειτουργήσει ως αποθετήριο για τα σχέδια δράσης του σχολείου (για κάθε σχολική χρονιά), ώστε να μπορούν να χρησιμοποιηθούν ως σημείο αναφοράς για μελλοντικά σχέδια δράσης. Παράλληλα, η διαδικτυακή πλατφόρμα έχει ως στόχο να δώσει τη δυνατότητα στις εκπαιδευτικές αρχές, να παρακολουθούν την πρόοδο των σχολείων, όσον αφορά το Σχέδιο Δράσης και να παρέχουν ανατροφοδότηση. Η διαδικτυακή πλατφόρμα είναι προσβάσιμη στους χρήστες που συμμετέχουν στα Προγράμματα του Τομέα Εκπαιδευτικής Τεχνολογίας (ΤΕΤ), μέσα από την Ενοποιημένη πλατφόρμα διαχείρισης εκπαιδευτικών Προγραμμάτων του ΤΕΤ στη διεύθυνση https://tetdashboard.pi.ac.cy. Όσοι επιθυμούν να γνωρίσουν ή να μάθουν περισσότερες πληροφορίες για την διαδικτυακή πλατφόρμα μπορούν να επικοινωνήσουν με τον ΤΕΤ.
VIDEOS from #SELFIEPTKMOOC
In the second part of this video from #SELFIEPTKMOOC (see video from minute 2:38 up to 4:58), you can find out more about how to develop the SELFIE-based Action Plan your school intends to implement.
When you have finished this step, you should have: