Monitor & evaluate action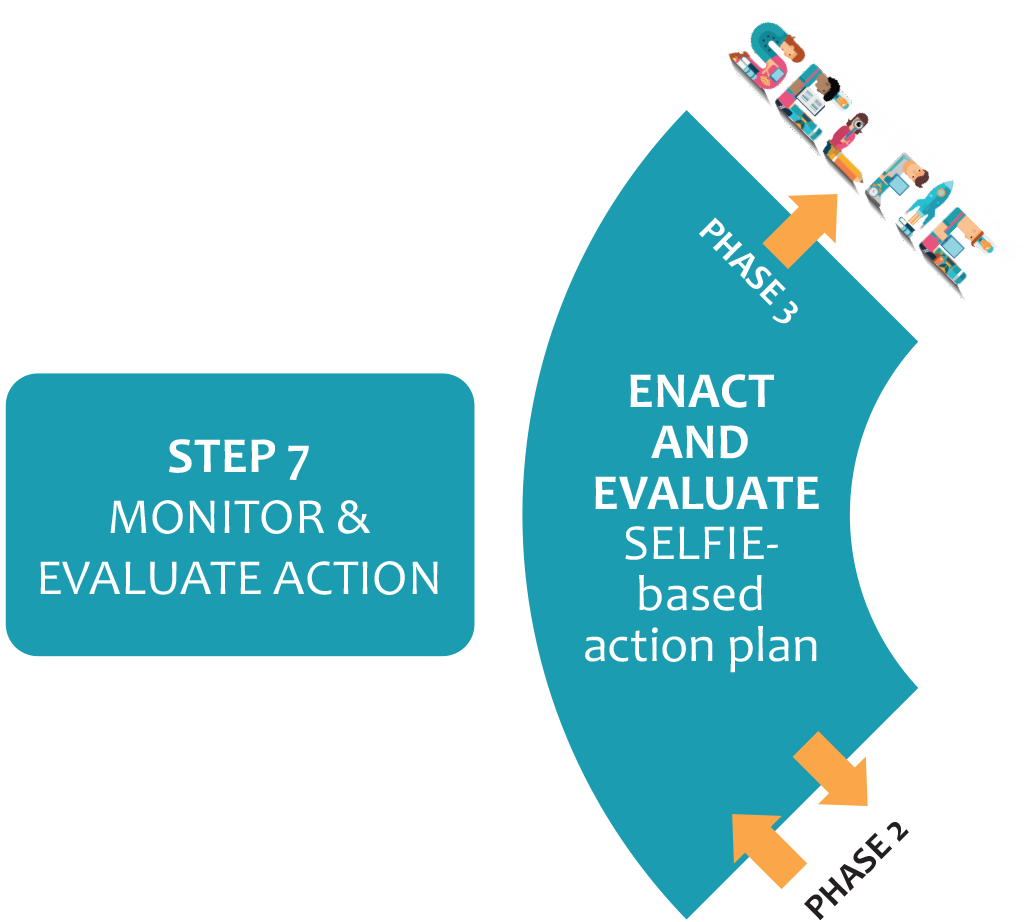 What does this step involve?
Having started the implementation of your SELFIE-based Action Plan (Step 6), you are now ready to activate the mechanisms defined in Step 5 for monitoring and evaluating the actions. In this step you will:
Monitor and evaluate the actions that are underway and make any necessary adjustments to the action plan.
Upon completion of actions, make reflective comments for future reference and possible improvements.
Keep in mind that even if this is the final step in the SELFIE PTK, it should be viewed as part of an ongoing processes. Results should be used to improve any future action plan, by taking into consideration the experience gained during implementation of this plan.
How do we perform this step?
With the action plan underway, it is essential that you maintain control, keep the action plan on track and assure its successful completion. Using the success criteria, tools and methods defined in Step 5, you monitor and evaluate the progress and impact of each action and determine the degree to which defined goals are being achieved or if they need to be recalibrated.
It is important that monitoring and evaluation are carried out throughout the whole implementation phase and in a systematic manner (at regular intervals), so that any issues can be identified and dealt with in a timely fashion, via appropriate solutions.
If monitoring reveals the need for on-the-fly adjustments for any activity, you may need to go back to Steps 4 and 5 (Phase 2) and adjust the design of your action plan. Remember that the design and implementation of your action plan are strongly interlinked, so any modification made will have implications for the action plan as a whole. Bear in mind for the action to be successful, all stated goals need to be met.
Upon completion of each action and collection of related data and artefacts, it is important to annotate your reflections on each action, irrespective of whether the goals set were successfully reached or not. These reflections regard:
the extent to which the action goals where achieved,
how teachers and students performed their roles,
emerged strengths and weaknesses of the action,
what worked and what did not work (based on the needs and profile of those involved in the actions and on any other contributing factors),
how and whether teachers' and learners' perceived changes in relation to the goal(s) of the action¸ and
any suggestions for improvement and for future actions.
Bearing in mind that your SELFIE-based Action Plan (even though enacted during a specific school period) is part of an ongoing iterative process, reflecting on this experience will provide invaluable insights for improving subsequent action planning.
The overall evaluation on actions performed should consider not just the achievement of pre-set goals but also to what extent these actions contributed to enhancing the whole school's digital capacity. This refers both to the specific SELFIE areas/items selected in Step 1 and, potentially, to positive effects on other areas/items that were outside the specific scope of your action plan.
To gain a picture of such progress, the school can consider repeating the SELFIE self-reflection process. This will allow you to compare the data from your initial SELFIE school report used at the start of the SELFIE PTK process (Step 1) with the data on your newly-gained status as revealed by your new SELFIE school report. This could also be launch pad for a new SELFIE PTK cycle.
What support do we have for this step?
Monitoring & evaluation template for your SELFIE-based action plan
A template to guide ongoing monitoring of how your SELFIE-based action plan is progressing, and for evaluating the outcomes and impacts it has generated with regards to the digital capacity of your school's learning community. File available in both MS Word and PDF formats for any school to download and use.
Template for SELFIE-based action plan
You can use the SELFIE-based action plan template for the analysis of each action described in Step 4. Template is available in printed format ( MS Word, PDF ) and through the online environment (Πλατφόρμα διαχείρισης των Προγραμμάτων του ΤΕΤ.).
VIDEOS from #SELFIEPTKMOOC
In this video from #SELFIEPTKMOOC (see video from 4:30 up to end), you can find out more about how to monitor and evaluate the impact of SELFIE-based Action Plan.
In this video from #SELFIEPTKMOOC, you can find out more about how to customize SELFIE to monitor progress on your school's digital capacity.
When you have finished this step, you should have: