Self-reflect on your school's digital capacity with SELFIE and set up a Coordinating team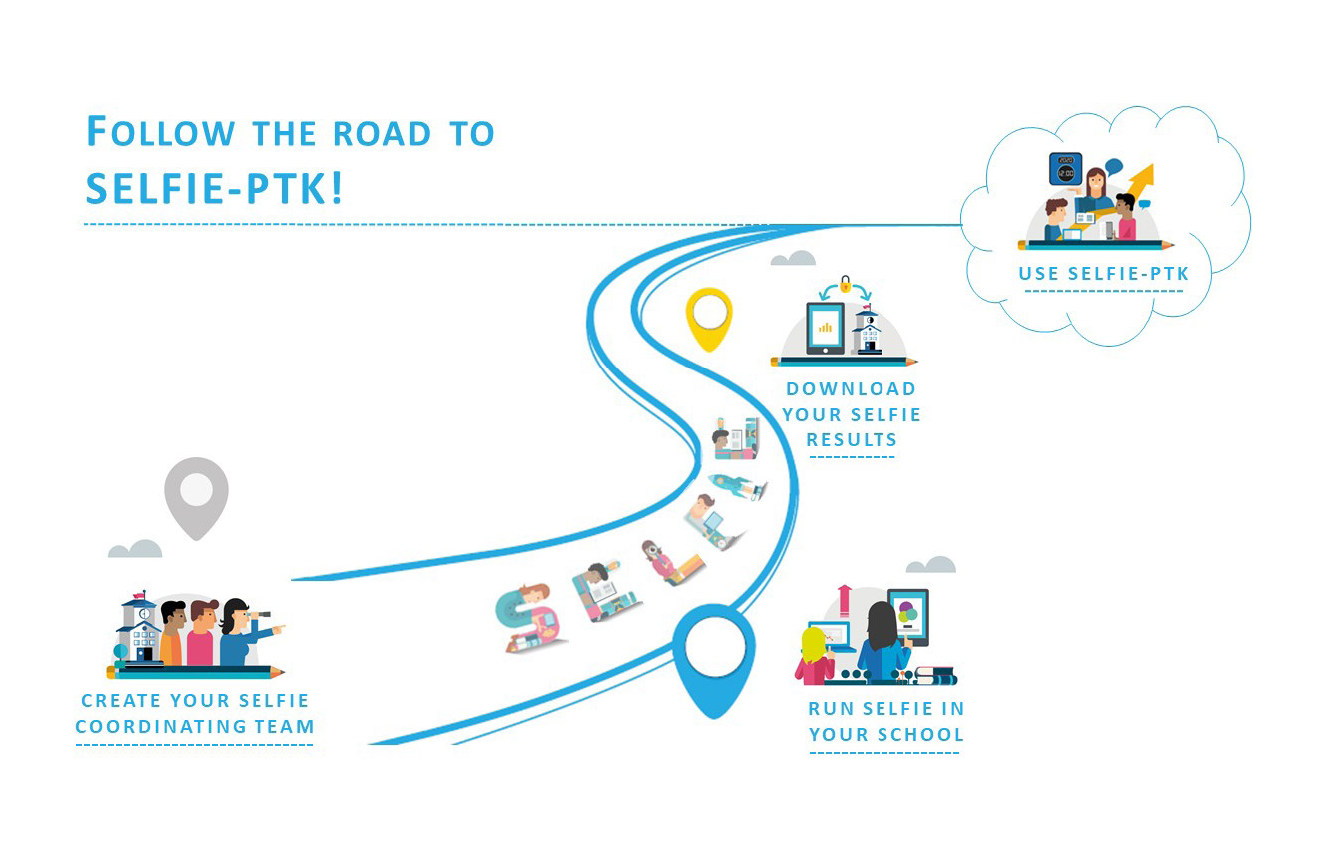 During this starting point, you will:
Self-reflect on your school's digital capacity through SELFIE.
Receive the SELFIE School Report.
Set up the SELFIE PTK School Coordinating Team.
If you have already done SELFIE and have received your SELFIE School Report, you may simply set up your SELFIE PTK School Coordinating Team and move on to the next step.
The very first thing you need to do is self-reflect on your school's current digital capacity using SELFIE[1] . SELFIE is an easy-to-use, online self-reflection tool, developed by the European Commission to help schools realise how they use digital technologies for innovative and effective teaching and learning. The way SELFIE works, you need to:
register your school on the SELFIE platform,
set up the self-reflection for your school (e.g., defining the calendar for carrying out SELFIE, selecting optional items and corresponding questions, etc.)
develop any additional school-specific questions for collective reflection through SELFIE, and
invite school leaders, teachers, and students to take part in SELFIE.
Once all participants have completed the questions, SELFIE will generate a report for your school. This SELFIE School Report (SSR) will serve as the basis for the next Step. You can find a short overview of SELFIE and the main sections the SSR covers here .
Even though the SELFIE PTK may involve the school's entire educational community, it is best to set up a SELFIE PTK Coordinating Team, a small team responsible for the actuation and oversight of each step. The SELFIE PTK Coordinating Team is expected to include school leaders, such as the Principal/Head and/or Deputy Principal(s), the teacher designated as SELFIE coordinator inside the school, and other key staff members involved in managerial/organizational aspects of the school (e.g., Heads of Department in Secondary education, ICT/digital education coordinator, teacher responsible for school evaluation, etc.). In composing the team, it is essential to consider whether staff members have the potential commitment and innovation attitude to make a positive contribution and whether they share the view that the school, no matter how effective, should always seek improvement. It is also recommended to include in the team students' representatives (e.g., members of students board/committee), whose inclusion and contribution to the school's digital action plan will support the desired outcome and provide students a sense of shared responsibility.
Συνιστάται επίσης να συμπεριληφθούν στην ομάδα εκπρόσωποι μαθητών (π.χ., μέλη του μαθητικού συμβουλίου/επιτροπής), των οποίων η συμπερίληψη και η συμβολή στο ψηφιακό σχέδιο δράσης του σχολείου θα υποστηρίξει το επιθυμητό αποτέλεσμα και θα καλλιεργήσει στους μαθητές την αίσθηση κοινής ευθύνης.
The role of the SELFIE PTK Coordinating Team can also be performed by an existing team established within the school.
The tasks of the SELFIE PTK Coordinating Team include:
Develop the school SELFIE-based Action Plan using SELFIE PTK.
Monitor and evaluate implementation progress of the school SELFIE-based Action Plan, ensuring that its objectives are met.
Promote awareness among the school community and facilitate involvement of all staff and other interested parties, such as students and parents.
Provide ongoing support to school staff and encourage active commitment throughout the implementation period.
Identify training needs and facilitate teachers continuing professional development.
[1]https://education.ec.europa.eu/self-reflection-tools/schools-go-digital
Setting up SELFIE in your school: detailed guide for SELFIE school coordinators 
Οδηγός SELFIE για συντονιστές σχολείων. Στον οδηγό αυτό περιγράφεται πώς γίνεται η εγγραφή στο εργαλείο SELFIE, η ρύθμιση των παραμέτρων του και η χρήση του. Στον οδηγό περιγράφεται επίσης συνοπτικά πώς ένα σχολείο μπορεί να ερμηνεύει και να εφαρμόζει τα αποτελέσματα του SELFIE.
Κατάλογος ελέγχου βήμα προς βήμα. Το αρχείο είναι στα Αγγλικά.
Σε αυτό το αρχείο θα βρείτε όλες τις προτάσεις και τα ερωτήματα του SELFIE ανά βαθμίδα εκπαίδευσης (Δημοτικό, Γυμνάσιο και Γενικό Λύκειο, Επαγγελματικό Λύκειο, Επαγγελματικό Λύκειο – Μάθηση στο χώρο εργασίας). Κάποιες προτάσεις/ερωτήματα – σε ανοικτό μπλε χρώμα – είναι κοινές για όλα τα σχολεία και δεν μπορούν να αλλάξουν.  Άλλες είναι προαιρετικές – αυτές σε ανοικτό πράσινο χρώμα – ώστε να αποφασίσετε αν αναφέρονται στο σχολείο σας και αν θα τις συμπεριλάβετε ή όχι.
Παράδειγμα έκθεσης αναφοράς SELFIE
Αυτό το παράδειγμα έκθεση αναφοράς SELFIE απευθύνεται στους συντονιστές σχολείων για να κατανοήσουν πώς θα μπορούσε να μοιάζει μια έκθεση SELFIE για το δικό τους σχολείο. Το πιο κάτω παράδειγμα είναι στα Αγγλικά.
Tip 0.1: Additional information and resources related to SELFIE
You can visit the official website of SELFIE (https://ec.europa.eu/education/schools-go-digital_en) to learn more about SELFIE, see how it works, better understand why to use it, find resources (e.g., guide for SELFIE coordinators, all SELFIE questions, sample report), and read the latest news.
Tip 0.2: Consider using the SELFIE PTK with other digital education initiatives
Even if your school uses an approach or a tool other than SELFIE for its digital self-reflection, consider how SELFIE PTK (adapted to fit your needs) could help you to devise and run a more effective Digital Action Plan.
Tip 0.3: SELFIE Helper
You can use the SELFIE HELPER, a chatbot system that assists schools to use the SELFIE platform, providing you with real-time help in resolving specific issues. To learn more, visit the SHERPA Project's website (https://sherpa4selfie.eu/), under which it has been developed.
Σε αυτό το βίντεο, η ομάδα του SELFIE παρουσιάζει ορισμένα από τα βασικά χαρακτηριστικά του SELFIE και καθοδηγεί τα σχολεία σχετικά με τον τρόπο εγκατάστασης και λειτουργίας του εργαλείου.
When you have finished this step, you should have: